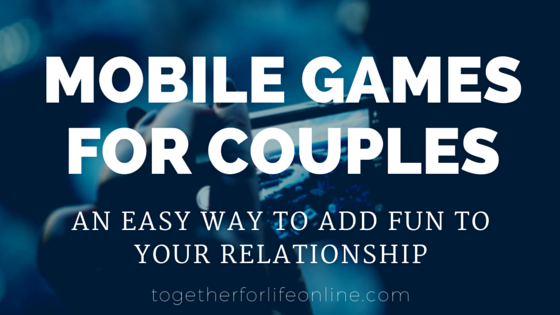 Smartphones are everywhere and, sure, they can be distracting.
Many couples experience troubles as a result of smartphone usage. For example, by checking Facebook, Twitter, Snapchat, and scores on ESPN, you might miss an opportunity to spending meaningful time with one another.
How, then, can we work to maintain a balance between these digital distractions and our lives in the real world, especially in our relationships?
You can either outlaw the phone or turn it into a way to create fun experiences together.
How? Try out some mobile gaming apps that couples can play together.
Many of these gaming apps can be used for fun date day experiences. Or, at the very least, they will give you something fun to do in your free time together.
Here are a few ideas to get you started.
Mobile Games for Couples
1. Words With Friends, Chess, and other Classics.
www.zynga.com/games/words-friends
These apps are ideal for lovers of traditional board games who are looking to move to the digital world. Based on board games that we all know and love, these apps move the fun onto our smartphones.
For these turn-based apps, couples need not be in the same room, area, or even country to play a game together! They offer a fun way to keep in touch while encouraging some friendly competition.
2. Ingress
www.ingress.com
If you or your spouse are fans of battle-type games such as League of Legends or World of Warcraft, this app is calling your name. According to its download page, this interactive app "transforms the real world into the landscape for a global game of mystery, intrigue, and competition."
In the game's story, a mysterious energy source was discovered by a team of scientists, and now the world must pick a side: to embrace or reject this energy. Users move throughout the real world, occasionally receiving a notification that an energy source is nearby. They can then interact with the energy using their phones and battle with other users.
Players are more powerful when working together, so the question remains: will you and your spouse pick the same team, or play against each other?
3. Geocaching
www.geocaching.com
You may want to spend some time in the great outdoors without chasing down mysterious energy sources. Or, maybe you just want to go on a hike. Ideal for outdoorsy folks, geocaching is a recreational activity that provides you with the GPS location of a "cache," a small hidden location.
At these caches, geocachers can leave notes in a logbook or exchange small gifts in a take-something-leave-something model, such as keychains, pins, or small toys. There are numerous apps that tell you the location of caches, and most are free for a trial version.
Plan a fun day with your spouse searching out nearby caches!
4. KliKaKlu
www.klikaklu.com
If geocaching sounds interesting but if you crave a more personalized adventure, consider this scavenger hunting app!
Klikaklu allows you to create a customized scavenger or treasure hunt for your spouse, giving them text or picture clues that lead them from location to location.
This would be a great app for an anniversary date; make all the clues related to special places in your lives, and have the final destination be the location of your date. Alternately, you could go on a hunt together to find a romantic or scenic location. This app is great for creative types who like solving puzzles.
5. Pokémon GO
www.pokemon.com/us/pokemon-video-games/pokemon-go/
So technically I'm cheating by including this app, as it hasn't yet been released at the time of this writing. However, all of the former Pokémon masters of the world collectively lost their minds when the trailer for this app was released, so it would be remiss to not include it.
The perfect app for the nerdy or nostalgic among us, this app moves the famous collecting and battle game into the world of augmented reality. Players will go throughout their day and get a notification (on their phone or via a wireless dongle) when they are nearby a Pokémon. They can then tap buttons to capture or battle the creature.
Water Pokémon will be near bodies of water, grass type will be in the forests, rare Pokémon may require an adventure, and so on. You can team up with your spouse or others to trade Pokémon, swap items, or battle. Created by the team that made Ingress, this app is sure to be a winner. Think back to your childhood, when you got your very first Pokémon game: do you still want to be the very best, like no one ever was?
Press Start
As you can see, mobile games can get you out of the house and out on an adventure. The days of sitting on your couch with your significant other can be a thing of the past. Take a chance and go gaming–mobile gaming–with the one you love!
This article was submitted by Kara Mlynski, Digital Marketing Intern at Ave Maria Press.