You have seen weddings on TV and in the movies, and you have likely attended a few yourself to get ideas for your own Catholic wedding music. But have you considered also looking at your parish's Sunday Mass? Paying attention to what happens at the Sunday Mass at your church—even if it's not the same church where you will be married—will give you a huge advantage when you begin planning your Catholic wedding ceremony with the church staff where your wedding will take place.
Many misunderstandings and disappointments that sometimes happen when you're working with the church wedding coordinator, priest, or music director can be avoided if you just remember this key point:
Your wedding is first and foremost a church ritual that needs to follow the principles and rules of the official public rites of the Catholic Church, also called "liturgies."
The church staff's model for what your wedding should look like is not what you normally see on TV but what usually happens at Mass every Sunday. Remembering this point might save you a lot of headaches and time as you begin choosing the music for your Catholic wedding ceremony. (For other questions about Catholic weddings check out the article, "Getting Married in the Catholic Church FAQs.")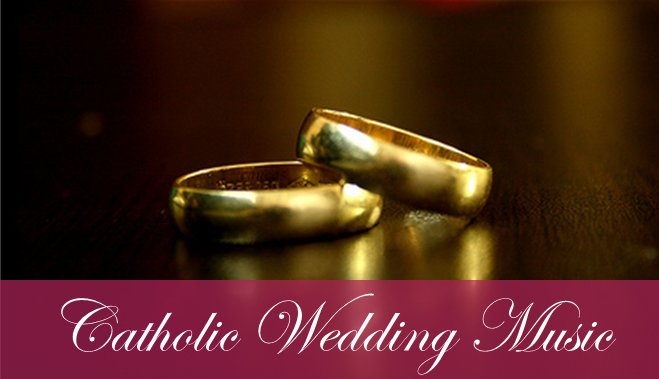 3 Principles for Selecting Catholic Wedding Songs
There are three basic guidelines that music directors, wedding coordinators, and priests use regarding music for Catholic weddings. These guidelines are based on standard principles that govern how music is chosen in the Catholic Church throughout the world.
Your local diocese or parish may have other, more specific guidelines that you will want to know and follow, but these are the most common. If you keep these guidelines in mind as you're thinking about music, your liturgy preparation will go much smoother.
1.  Catholic wedding music is music that everyone sings together.
The Church values singing together because the liturgy is meant to express the unity of all the people gathered. Singing together shows and strengthens that unity.
Think of it like the national anthem. Whether it's sung by a professional singer alone or by everyone together, the song expresses our patriotism. Yet there's a subtle difference depending on who is singing it. When it's sung well by a soloist, it elicits deep emotion and we're moved by the singer and the song. However, when everyone sings it together, the focus is no longer on one singer or even on the song but on the group and what the group is doing, and can do, together.
Group singing says that each of us is necessary and we're all in this together. Your family and friends are there to support you. Let them express it by choosing music they can sing together.
2. Catholic wedding ceremony music is liturgical.
The music we use in church is different than what you hear on the radio because it is specifically written for Catholic liturgy, that is, it's liturgical music. Not only does liturgical music have lyrics that fit the theme of the liturgy, but more importantly, liturgical music needs to fulfill the specified function of each part of the liturgy. Every liturgy has assigned words and actions that happen in a specific order. The music used during the liturgy must "serve the liturgy" so that the music fits the purpose, length, and assigned texts, if any, for each particular moment.
Your church staff can give you a full list of all the parts of your wedding liturgy, but here are some of the most important parts that call for music:
Processions
Opening Procession: Catholic Wedding Processional Songs
The opening procession sets the mood and begins the ceremony, but, liturgically, it's also meant to unite us and remind us that God draws us together through the love of Christ and the love of the wedding couple. At Sunday Mass, everyone sings a song for the opening procession. That's also the norm for the opening procession of a wedding.
However, recognizing that the procession is also a way to highlight the wedding party, some music directors and priests allow using instrumental music during the procession. So you can either have everyone sing together during the procession or conclude the procession with a song all sing as a way to refocus on God who gathers us. The lyrics for this gathering song should express our faith in Christ who unites us. (Read more: The Entrance Rite)
Communion Procession: Catholic Wedding Communion Songs
The Communion procession is similar in that its purpose is to express the unity of the assembly who come to the altar to share in Communion. The song during this procession should express our union in Christ who feeds us and nourishes us with his Body and Blood.
Closing Procession: Catholic Wedding Recessional Songs
The closing procession (or recessional) is a freer moment in the liturgy, so there are fewer guidelines about it. This is a time when you can choose a song or instrumental piece that expresses your joy.
Responsorial Psalm
In a Catholic wedding, there are typically three readings. In between the first and the second reading, there is actually a fourth reading from the Bible taken from the Book of Psalms, which is sung. The purpose of this responsorial psalm is to summarize the theme of the readings and further unite the people gathered in expressing their faith through song. A trained cantor leads the psalm by singing the refrain and inviting the assembly to repeat the refrain in between verses that the cantor sings alone.
There are several assigned psalm for weddings, and your wedding coordinator can help you select one of the texts or you can select one from the Together for Life booklet. Your music director can then offer different musical settings of your chosen psalm. You might also find settings of that psalm in your parish hymnal.
You can find psalm settings and music samples from the major Catholic music publishers:
Search using the text of the psalm refrain or by the psalm chapter in the Bible.
Acclamations
Throughout a Catholic liturgy, there are moments when we sing a short refrain. These acclamations are dialogues that heighten the solemnity and punctuate the importance of what is happening in the ritual. These acclamations have assigned texts, so you can't change them; but your music director can give you different options for musical settings of the texts.
These are the times when we sing an acclamation:
before the Gospel reading;
three times during the Eucharistic Prayer (if celebrating a Catholic Mass)
and once right before Communion (if celebrating a Catholic Mass)
Listen for these in your Sunday Mass to get a sense of what setting you like.
3. Catholic wedding music is rooted in Scripture, sacred writings, or Catholic Church teaching.
Because your wedding is a ritual of the Catholic Church, the lyrics of your wedding songs need to represent the Catholic faith. Your best bet is to stick with words from the Bible or with songs you find in your parish's hymnals. When you are at church next Sunday, look through your parish's song book for Catholic hymns for weddings. Often, hymnals will group songs together by theme or purpose. Look in the index or table of contexts for sections of hymns on "love" or "marriage."
Can you use wedding music that does not fit these three principles?
That is up to the parish liturgical staff where you will be married. The Catholic Church gives guidelines, but it is up to each parish, operating under the policies of the local diocese, to implement those guidelines as they see most appropriate for each particular situation. Some parishes will be very strict about following rules; others will be more lenient. But all of them are trying their best to help you celebrate your wedding in a prayerful, joyful, and memorable way.
If you find that you're getting some resistance from the parish staff to your musical choices, remember that your entire wedding day is filled with opportunities to incorporate your preferences. Not everything has to be done within your wedding ceremony at the church. Think of ways you can use that favorite song at your rehearsal dinner, wedding reception, or even in a special private moment of preparation with your spouse-to-be and your closest family and friends.
When you look at your entire day as one big ritual moment, then you are freer to move within the guidelines of the Church to make your wedding ceremony as beautiful as it can be.
(photo credit: Caucas')
When should you pick the music for your wedding? 

Sign up for the Together for Life Online Newsletter and get The Catholic Wedding Planning Checklist for free. This checklist will help you get organized as you prepare and plan for your Catholic wedding ceremony. It will explain exactly when to pick the music, the readings, and complete the many other essential tasks leading up to your wedding.