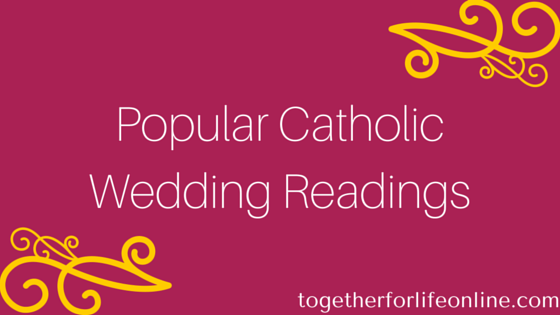 As couples prepare for their wedding ceremonies, they get to select the readings that they would like include as a part of their big day. As guests at various wedding ceremonies, we've all heard similar readings from wedding to wedding, but which of these readings are the most popular?
Since we launched the Together for Life Online website in 2012, over 3,000 couples have selected their readings and prayers using the online selection form to supplement their Together for Life booklets.
We decided to take a look at the data to see which wedding readings are the most popular in Catholic wedding ceremonies. Take a look at the statistics and the infographic below and see if you can guess which readings are being selected the most!
Check out all the possible Catholic wedding readings here!
(By the way, if you want to know when you should select the readings for your Catholic wedding, sign up for this Catholic Wedding Planning Checklist.)

Embed this Infographic on Your Website
Copy and paste this code into your website:
The Most Popular Wedding Readings
Old Testament 
29%: "It is not good for the man to be alone." (Genesis 2:18–24) 
19%: "Now, Lord, you know that I take this wife of mine not because of lust, but for a noble purpose." (Tobit 8:4b–8)
18%: "Let us make man in our image, after our likeness." (Genesis 1:26–28, 31a)
Responsorial Psalms 
36%: "The earth is full of the goodness of the Lord." (Psalm 33) 
21%: "The Lord is compassionate toward all his works." (Psalm 145)
15%: "The Lord is kind and merciful." (Psalm 103)
Second Reading 
41%: "Love is patient, love is kind." (1 Corinthians 12:31–13:8a)
15%: "If God is for us, who can be against us?" (Romans 8:31b–35, 37–39)
The Gospel Reading 
23%: THE BEATITUDES "Blessed are they . . ." (Matthew 5:1–12a) 
21%: "Therefore what God has joined together, no human being must separate." (Mark 10:6–9)
16%: "As the Father loves me, so I also love you." (John 15:9–12)