Hispanic Wedding Tradition: Wedding Coins (Arras)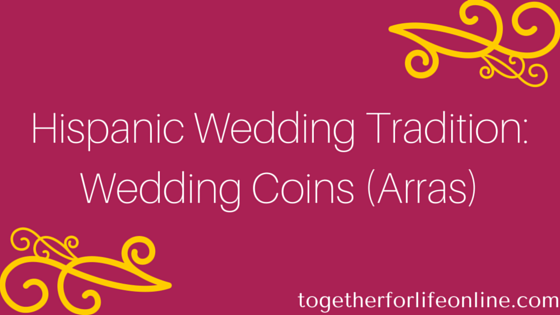 The Hispanic culture also gives us the tradition of wedding coins, arras. After the blessing and exchange of rings, the priest or deacon blesses a set of wedding coins. The groom then gives the coins to his new wife as he pledges to care for her and the home they will build together. The bride receives the coins and commits herself to working with her new husband to use the gifts they have to care for all in need.
The Meaning of the Wedding Coins (Arras)
This custom developed from the tradition of giving an arrabon, a Greek word for "pledge." In essence, this was the "dowry" that represented the groom's commitment and ability to care for the material needs of the home. This tradition found its way into wedding ceremonies so that today we see Spanish wedding coins and Mexican weddings coins integrated into a wedding ceremony.
Today, many couples depend on two incomes in order to manage their financial needs. So the words that accompany the giving and receiving of the arras can express this contemporary reality as well as communicate the sacrifice that each of you will make for the other.
If the words you use are crafted well, they can also express your new sacramental role in the community. As a couple, you are now a new sign of God's love to the world, especially for those in need. The arras can represent your sacrifice not just for each other but also for those who come to you seeking your care and kindness.
(The Spanish version of Together for Life, Juntos Para Toda La Vida, is available at www.avemariapress.com.)