Whether you are newly married or have been married for years, effective communication in marriage is an essential skill to ensure you will be together for life. The lack of communication in marriage can be a significant cause of divorce not to mention general unhappiness in your relationship.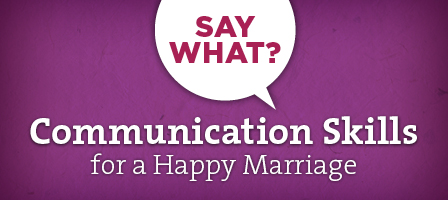 Communication in Marriage Articles
In the articles below, you can read advice from couples who are mastering habits and skills necessary to develop positive communication skills in their marriages. Check out the articles and leave a comment with your experiences with each topic.
How to Get Your Spouse to Do the Chores
The Myth of Multitasking and the Power of Listening
5 Obstacles to Effective Listening
Communication and the Theology of the Body
Finding Time Away from Your Spouse: A Lesson from the Theology of the Body (CatholicMom.com)
Family Communication (CatholicMom.com)
10 Guidelines for Couple Decisions (Simple Marriage)
Forgiveness Fundamentals (foryourmarriage.org)
Win Hearts, Not Arguments (Engaged Marriage)
Five Tips to Fight Less and Love More (foryourmarriage.org)
Do You Talk Too Much? (CatholicMom.com)
Books about Marriage and Communication
If you are looking for books about communication in marriage from a Catholic Perspective, consider these titles:
We Really Need to Talk by Dr. Paul Donoghue and Dr. Mary Siegel
Are You Really Listening? by Dr. Paul Donoghue and Dr. Mary Siegel
The Good Listener by James Sullivan
God Knows Marriage Isn't Always Easy by Maureen Rogers Law and Lanny Law