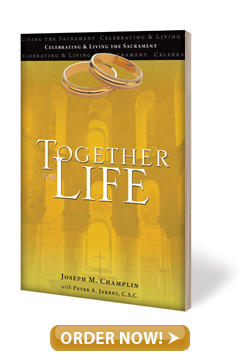 With over nine million copies sold, Together for Life has been meeting the needs of Catholic parish ministers and engaged couples for over forty years. In 2012, Ave Maria Press debuts the much anticipated new edition of this classic work.
Includes approved texts for celebrating the Rite of Marriage and new prayers from the Roman Missal, Third EditionWhat can you find in the new edition of Together for life?
New scripture commentaries by married Catholic leaders
Sample intercessions updated to reflect current liturgical norms
Previous regular and special editions now combined in single volume
How-to guides throughout book to help parish ministers
New FAQ section about the celebration of Catholic weddings
Tips for strengthening marriage
Together for Life is also available in Spanish: Juntos Para Toda La Vida.
Supplemental Online Resources for Together for Life
Online Selection Form: For the first time, couples can log on and select their wedding readings and prayers online. Couples should go to the selection form and submit their forms by email to their priest or deacon. They can register with Together for Life Online to save their selections and return to edit them later.
Wedding Intercessions: With the new edition of Together for Life comes a new set of sample intercessions that couples can use in their wedding ceremonies. Couples can also use this Composing Wedding Intercessions Worksheet to write their own intercessions.
The History of Together for Life: Robert Hamma, the editorial director at Ave Maria Press composed a short history of the Together for Life book that newly engaged couples will find interesting. Learn more about the history of Together for Life.
Appendices: Owners of Together for Life will notice a number of appendices and other resources that can be found here at Together for Life Online. Click on the links below to find these great resources: