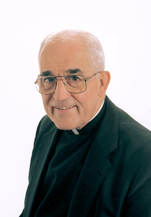 Almost all the engaged couples I meet with cite friendship as the key ingredient of their relationship. Still, they would also consider several other persons as friends although not in the same category or to the same degree as their intended spouses.
Friendship has an illusive and mystical quality. It just happens. A comfortable connection simply develops. We enjoy another's presence. We like this man or this woman. We often use the term rather loosely. "All our friends are here." But a true friend is a precious gift, and each individual in a lifetime probably has at most five or six such treasured friends. Yet we have many persons with whom we are friendly. In addition, the level of friendship varies with each relationship.
A generic love spawns friendships, sustains them, deepens them, and, in the case of engaged couples, takes them to different levels with unique characteristics. . . . A close, committed, long-term relationship, a satisfying friendship, a successful marriage requires an inner attitude that is self-giving or unselfish, as well as steady, and sometimes even courageous.
[Henri] Nouwen, for whom friendships were critically important, acknowledges that they involve "hard work" and entail a "real discipline."
Should We Marry? pp. 18, 28